CrossFit Games App


Let's create the best measuring stick of fitness in the world.












Background
Constantly varied, high-intensity, functional movement. CrossFit has been championing this philosphy of fitness for nearly two decades. They've created a tribe of nearly 4 million people in all seven continents. And the Games is the yearly culmination of it all.

The CrossFit Games is comprised of five competions, peppered throughout the year. The Open is the first competition of the season and is open to all CrossFit athletes. Five workouts are done in the five weeks of competition. Everyone submits their score and their results are put on a collective leaderboard. Immediately see your fitness level compared to 500,000 other CrossFit competitiors.

So how might we create the best measuring stick of fitness in the world? How might we leverage and display the fitness data of over half a million competitors? And how might we create a tool that is scalable for all the other competitions of the CrossFit Games?


A Personalized View of Your Progress
Every Open experience begins with the athlete. The Dashboard gives a quick view of the progress that an athlete is making throughout the Open. Personalized Cards show the athlete's overall rank compared to narrowing geographical areas - first in a worldwide perspective and then drilling down to regional and even local perspectives. By keeping it personal and relevant, athletes always have way to gauge how they're doing throughout the competition.
Personalized cards show your rank compared to different regions.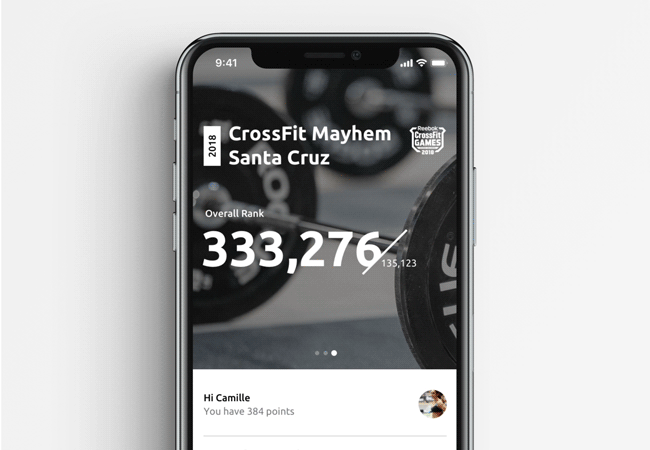 Tap in to see your rank, percentile and workout scores.
Follow the Competition
The meat of the Open competition is the Leaderboard. The Leaderboard is the ultimate source of truth - it never lies! After submitting a workout, every athlete shows up here, ranked by performance. But with half a million competitors, athletes need a way to quickly view and filter through the Leaderboard to see what's important to them. We developed the Leaderboard as a tappable cell that expands to reveal more stats and additional workout data. We made filtering intuitive and quick, keeping the user in the Leaderboard view.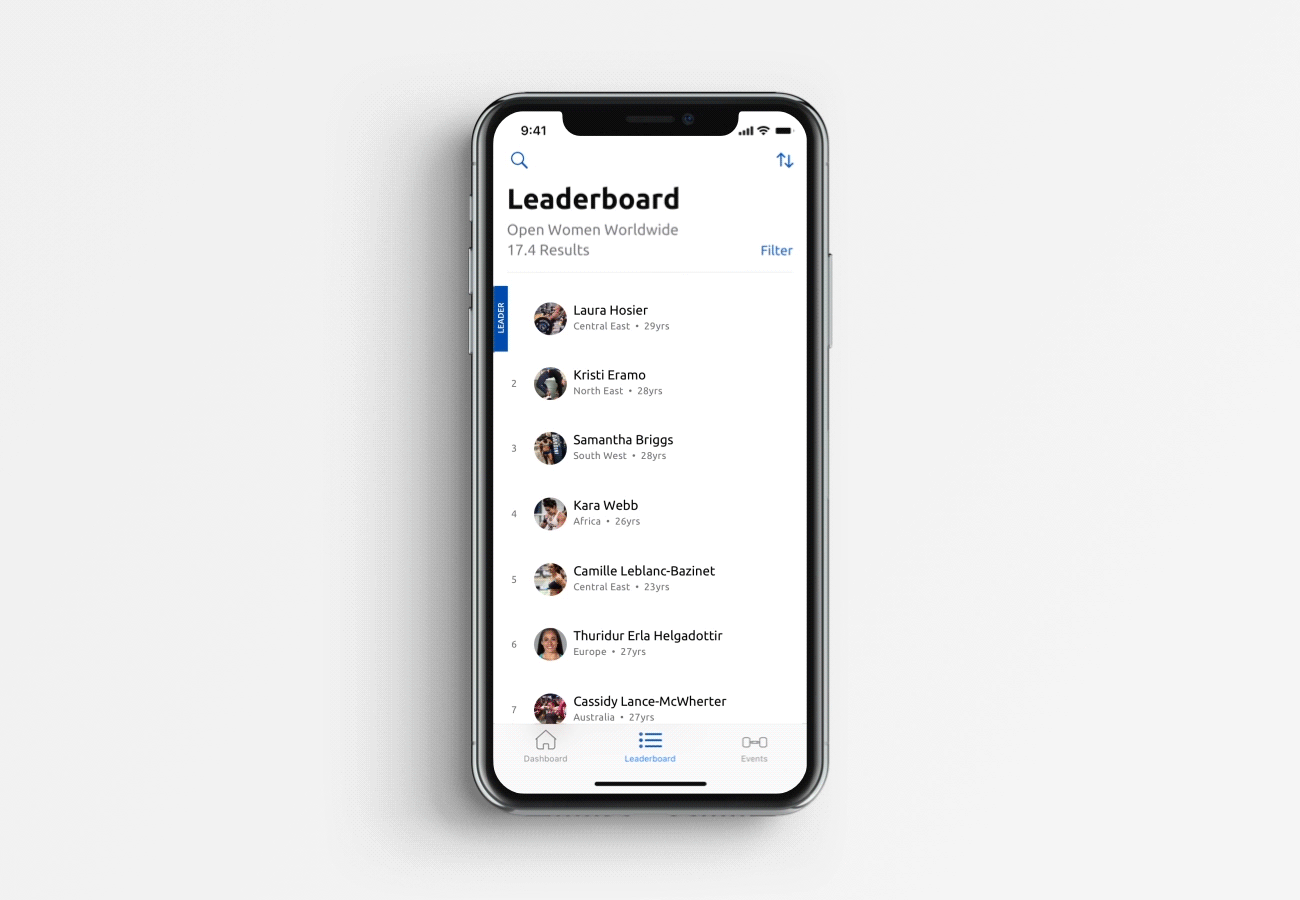 Tap and expand to see more info on an athlete.

Filter down the Leaderboard to see what's relevant to you.
Follow your favorite athlete's progress right on your dashboard.
Never Miss an Event
The Events tab is where all the challenges live. It's the home of the workouts, each being released on it's particular week. If a workout "Live," an athlete can submit their score from the app. With push notifications, an athlete will never have to worry about missing a submission deadline. Tap in to the workout to see workout details, equipment guidelines and an instructional video explaining the workout.
A home for workout standards, instructional videos and scoring guidelines.
All About you
CrossFit is all about experiencing the journey – how far you've come and how far you're going to go. The Profile page is all about your personal fitness progress. It stores your personal bests in benchmark workouts like the deadlift and squat. It also is a place where all your Open, Regional and Games scores live.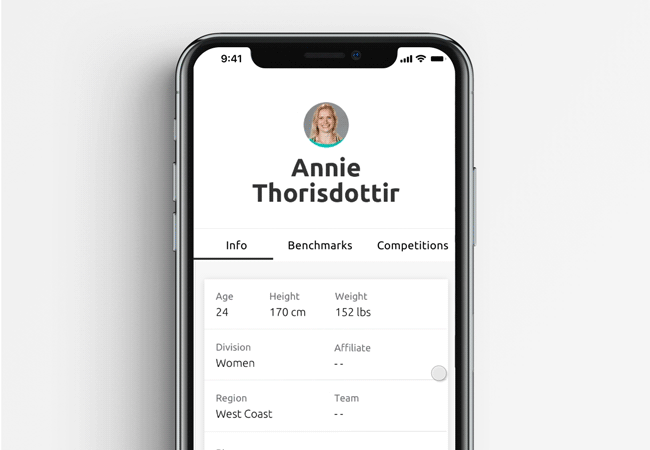 All of your personal fitness info lives in the Profile tab.
Android Ready
Our team has had the privilege of designing and developing in both native iOS and Android. We worked closely with our development team to create a workflow that was fast and efficient to meet our Version 1 build date.
Process
Our product team was designed to be nimble and tight – small enough where we could integrate and collaborate with the larger CrossFit office. We start the whole thing off by investing time at CrossFit HQ building relationships and learning about the CrossFit movement. We also spend time interviewing key stakeholders and listening to whoever would talk to us. Through a series of design activities and exercises, we develop an app strategy for the team to align on. After prioritizing needs for a Version 1 release, we are off and running with short design sprints.



Design sprints are highly collaborative with designers, developers and our CrossFit partners. By tapping into the expertise of the whole team, we're able to find unique solutions to design challenges. Starting from initial sketches, my UX partner and I bring them from low fidelity wires to high fidelity final designs, building prototypes and iterating along the way.
After user testing different prototypes, we go through several design iterations before landing on something we feel confident about. Here are some early designs for the Dashboard view.
The CrossFit Games App is now live in Apple's
App Store
and Google
Play Store
! Check it out and give it some love ❤️.
Product Design

-
Phillip Lee



Design Agency
-
Prolific Interactive



Dev Team

-
3 iOS, 2 Android
Design & Build Time
-
6 Months

---
Let's build something great together